What is Bollywood Bash?
---
Bollywood Bash started out as an annual house party by one person and her friends who love to dance, love world music and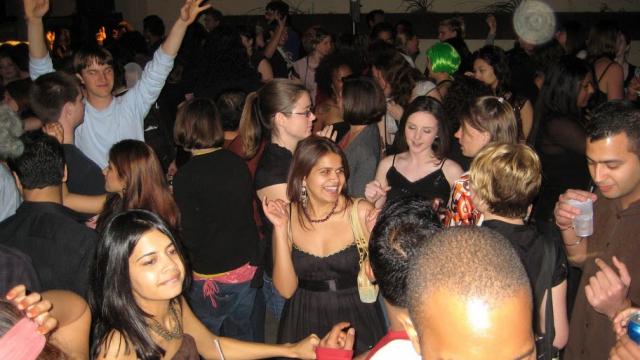 love the cheezy glamour of Bollywood movies. Each year it got bigger and better and Bollywood Bash eventually grew too large to host at her home, but the party didn't end there.  She brought Bollywood Bash to the masses by hosting it at clubs and music venues around Austin.
Two things have remained the same for Bollywood Bash over the last 13 years-- it's an amazing dance party that attracts a diverse crowd, and it has always been a charitable event benefiting Austin non-profits like AFSSA. 
Hundreds of people show up for Bollywood Bash, some in Indian clothes and others even in flamboyant Bollywood costumes! Whether you dress up or not, and even if you're more of a people-watcher than an aspiring Bollywood back-up dancer, Bollywood Bash is the place to do it!
Bollywood Bash has never been just another dance party.  While most of the music is high energy film songs from India, we do bring in beats from other corners of the world. People really do dance the whole time at Bollywood Bash, so get ready to shake it for a good cause!  You won't be sari!
Flyers from this and past Bollywood Bashes:
About Asian Family Support Services of Austin
AFSSA is a nonprofit organization based in Austin that provides assistance to Asian and other immigrant families dealing with domestic violence, sexual assault and trafficking.
Its mission is to promote abuse-free Asian communities through advocacy, support, awareness and access to social services.  AFSSA envisions healthy, abuse-free Asian communities.
AFSSA specifically addresses the cultural and language needs of Asian and other immigrant families affected by domestic violence.  The organization's programs integrate culture and language specific direct services, educational programs, and community-based initiatives and advocacy.
To learn more about AFSSA and ways you can support the organization, please visit www.afssaustin.org .
Bollywood Bash is organized by Austin locals. It is not a AFSSA organized event.